Manufacturers of 360 Photo Booth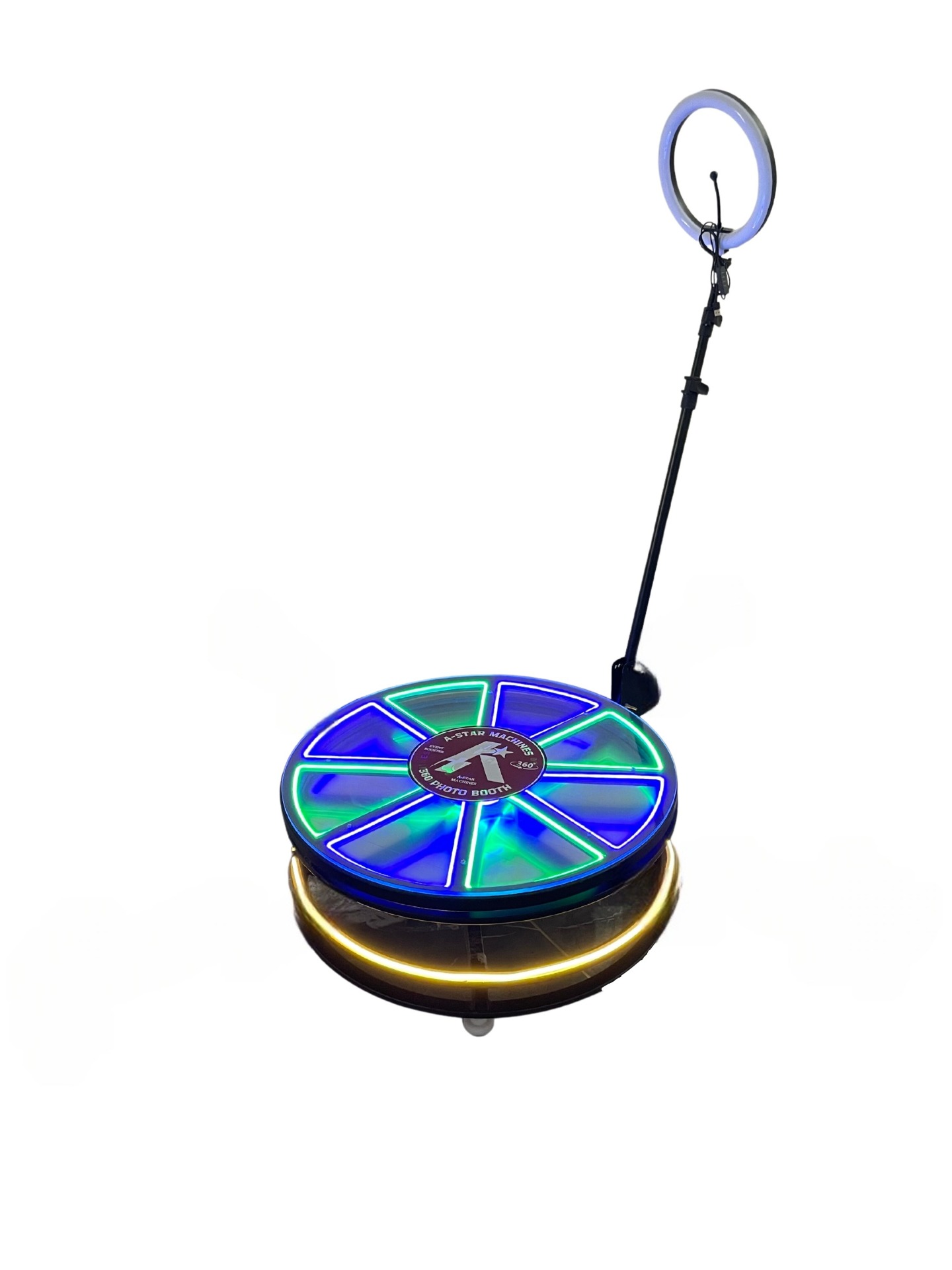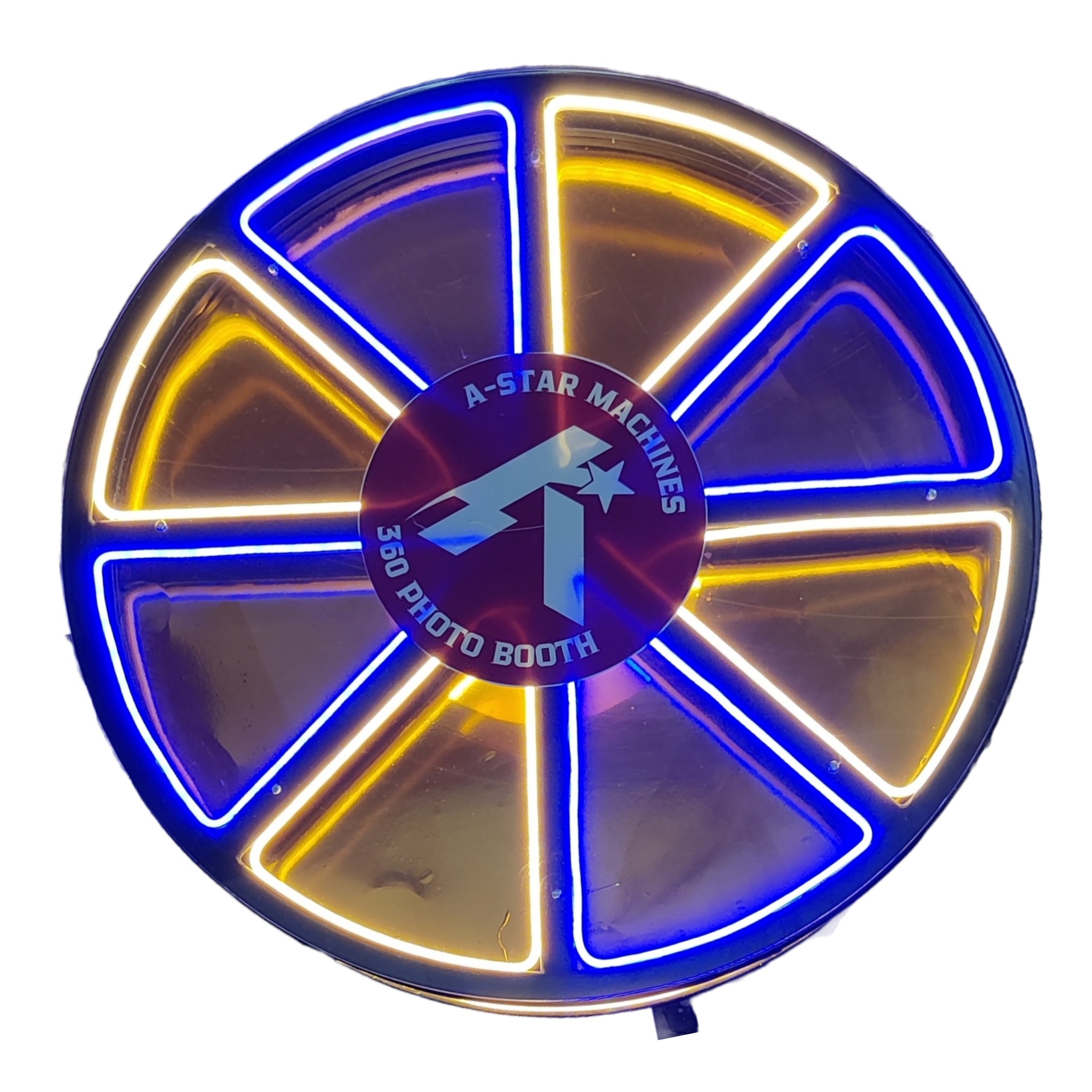 | | |
| --- | --- |
| Product Name | 360 Photo Booth |
| Brand | A Star Machines |
| Material | Metal |
| Power | 230V AC |
| Weight | 35Kg |
| Size | 75cm Diameter & 25cm Height |
| Control Mode | Remote Control |
| Loading Capacity | 220Kg |
360 Photo Booth is an excellent way to add excitement and engagement to any party or event. It allows guests to take part in a fun, interactive experience that captures their memories in 360-degree.
More About 360 Photo Booth
A Star Machines Selfie Booth's 360 Video Booth can record slow motion video from all angles.Guests are automatically circled by a slow-moving arm while they stand on a platform.Additionally, 360 Degree Photo Booth Machine overlays and animations can be customized, and awesome contents can be shared in a matter of seconds.360° photo booth device Selfie Rotating Stand in Slow Motion with Portable Platform.delivering to you in a timely manner the greatest selection of glass frame 360 automated photo booths.360 Degree Selfie Booth Support for smartphones, iPads, GoPro cameras, and DSLR cameras are all included, along with choices for slo-mo, pictures, videos, and live gifs.These videos are instantly viewable and shareable online! Instant sharing to Facebook, Twitter, and Instagram. When you purchase a 360 spin photo booth, you provide event planners, businesses, and customers the opportunity to transform their gatherings into something memorable and distinctive! The 360 photo booth will undoubtedly be the focal point of any event and a fun, interactive way to keep attendees entertained. You may add sound to your spin movie to make it even more entertaining, create 360-degree films in slow motion, edit your video to include stop motion, or even convert it to a gif. You can time and speed-adjust the photo booth's arm as easily as shooting a selfie on your own. Push the boundaries of your creativity and imagination. When you purchase a 360 photo booth, the options are unlimited!
Why Buy a 360 Photo Booth?
Our 360-degree camera booth can transform a regular birthday celebration into the Oscars after party or a regular wedding into the season's biggest event. With our 360 photo booth packages, visitors can snap individualised, quick, and spinning 360-degree photos of themselves that are sure to be the talk of your events. Our photo booth has outstanding technology that enables the arm linked to its fixed platform to take a 360-degree picture using any video camera. This unusual photo booth will produce a bullet-time effect that can be shared in a matter of seconds. All visitors may enjoy this extraordinary photo booth, and both children and adults will be entertained by its distinctive features.
How Do i use a 360 Photo Booth?
The 360 Spinning booth is affordable portable, automated, and simple! No matter where you use it—indoors, outdoors, or at a destination event—it is durable and very simple to put up. To advance your photo booth, you don't need to be an expert! There is no requirement for expensive cameras or equipment; any photo-capturing tool will perform flawlessly with our 360 photo booth. With any smartphone, tablet, DSLR camera, or even a GoPro, you may enjoy the enjoyment of our photo booth since our 360-degree photo booth can support its weight. The 360 photo booth will capture the amazing video for you if you only step onto the platform of our photo booth and attach your camera!
Where Can i use a 360 Photo Booth?
A 360 Selfie Booth booth adds value not just for birthdays and weddings. Our 360-degree camera booth is excellent for corporate events, commercial projects, and advertising campaigns. Your corporate logo or the topic of your event may be customised on all the video material produced by this picture booth, and your visitors will undoubtedly want to share their amusing and original 360 camera booth films on various social networking sites. This is a distinctive and enjoyable method to advertise your company while also providing your guests with a treasured after-party favour. With a range of features, our photo booths may be customised to include features like ultra-smooth video capability, social network integration, and even dramatic effects using a green screen. Guests won't have any trouble posting their photo booth movies online with all of these alternatives available. This 360 photo booth can be readily tailored to match the theme of any event since it is so flexible. To make the 360 movies more suited to your requirements, you may add lights or banners to the background. It's simple and handy!
Adorable Features of 360 Photo Booth
Manual Controller
Speed Controller
Reverse/Forward  Spinning
Lights On/Off Switch
Wireless Remote
Power Cable
XLR Cable
D-Frame Adjuster
Mono-pod
Extension Rod
Ring Light
Tripod Ball
Mobile Holder
Imported Motor
2.5 Feet Diameter
Why do i buy 360 Photo Booth from A Star Machines
When you purchase a 360 photo booth from A STAR MACHINES. In addition to our significant expertise and experience, we also have a strong technical staff with cutting-edge design and development capabilities. A novel way of speaker development assures the greatest degree of quality. We offer just-in-time delivery and quality control throughout India. The days of having a standard photo booth that shoots out tiny images of attendees in a confined area are long gone. You can host more people per session and add intrigue to your celebrations You can now choose between printing a vintage photo strip or a fun, cutting-edge 360 video! Even before you leave the photo booth's platform, the video from our 360-degree rotating booth is in your mailbox. It's just as simple to obtain your next drink from the open bar at the party as it is to upload your entertaining and hilarious 360 slow motion videos. The 360 photo booth offers users and guests a variety of methods to capture memories.
Go and buy a 360 camera booth now!
360 Spinning Booth For Any Event
Weddings
Parties for Graduates
Reunions from High School
Bashes on New Year's Eve
Christmas Parties at Offices
Training Seminars & Special Events.
Concert & Parties
Plus a lot More!
Frequenty Asked Questions for 360 Photo Booth
What is 360 Selfie Booth?
How Does A Star Machines Spinning Booth Works?
What are the Prices of 360 Degree Selfie Point?
360 Photo Booth Price?
360 Video Booth Price?
360 Selfie Stand Near me?
360 Photo Booth Near Me?
360 Selfie Booth in India?
Buy 360 Photo Booth
Manufacturers of 360 photo Booth?
360 Spinning booth for sale
360 Video Booth for sale near me
To Know All the FAQ about 360 Video Booth, Feel free to contact our support team if you have any questions; they will be delighted to help you.
Buy Now!
Dry Ice Low Fog Matka
Special Effect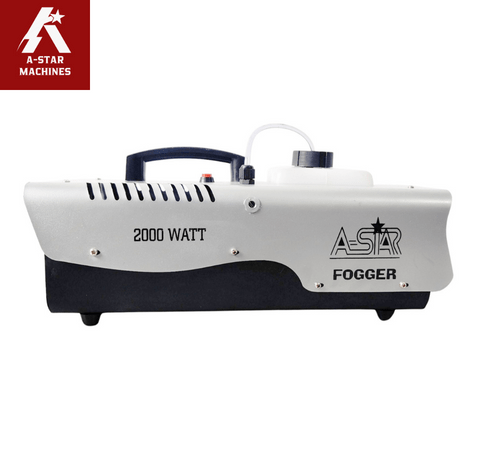 Smoke Machine
Special Effect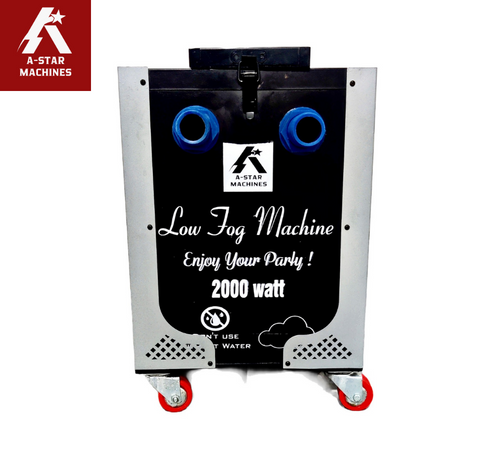 Dry Ice Low Fog Machine
Special Effect